CAMPING MAP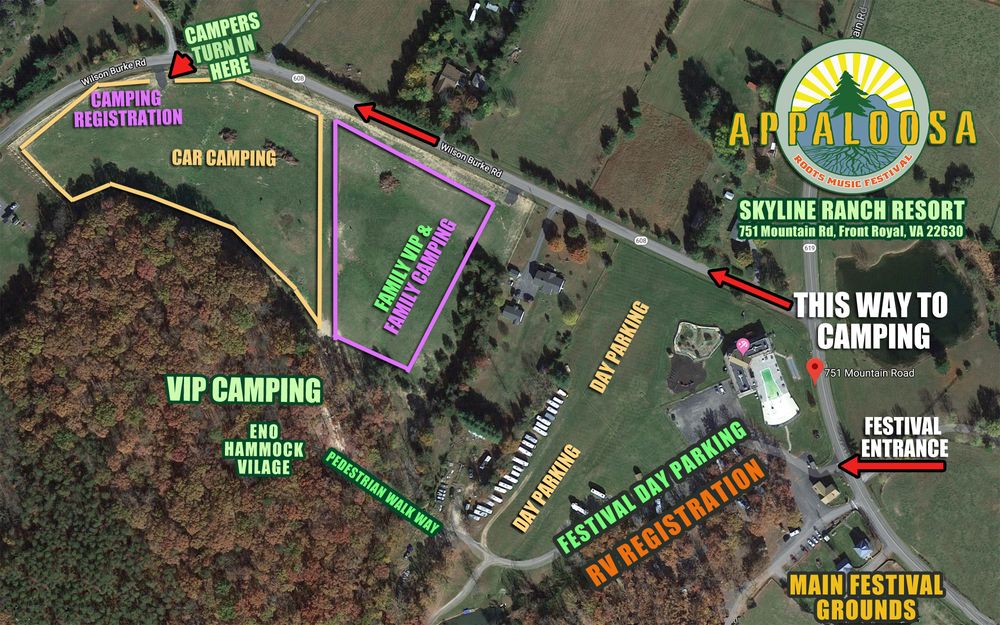 Check-In Times: 
Friday: 4pm-10pm 
Saturday: 10am-2pm 
Sunday: 10am-2pm 
Check-Out Times: 
Saturday: by 10am 
Sunday: by 10am 
Monday: by 10am
General Info:
Speed limit: 5 MPH
Use low beams at all times 
No driving around the grounds: 8pm-8am 
Quiet time for General Camping: 10pm-10am 
Quiet time for Family Camping: 8pm-10am 
No pets allowed in tent sites, allowed in RV area only (service dogs must have registration)
Respect Your Campsite:
Clean up your campsite regularly; $50 fee for campsites left messy
Carry water to your campsite for washing; do not wash dishes in the bathroom, showers, or hand-washing stations
We will be operating under a "Leave No Trace" policy: Plan Ahead and Prepare; Travel and Camp only in/on designated areas; Dispose of Waste Properly (Pack It In, Pack It Out); Leave What You Find
 Camping Etiquette:
Quiet time is for being quiet.
Campers are some of the friendliest people you will meet. Be friendly. Have fun. But always respect your camping neighbor's space.
Leave no trace behind.
Don't feed animals at the campsites. Wild animals are like mooching friends - feed them and they will never leave. They may become aggressive as they demand more food. This is not safe for your family or for future campers.
Don't leave food out at night. Contain it or hang it. Secure food in airtight containers or hang from a tree limb or hook.
Don't bring firewood with you. Buy firewood close to the campground where you are camping. Moving firewood long distances transports insects and disease, and may destroy trees and forests.
Playing music at your campsite is fine. Blaring music is not.
Honesty is the best policy, even while camping.
The pond is off limits.
Place grey water in grey water drains located in campground or other approved dumping stations. Grey water is waste water from washing dishes, laundry, and bathing. Dumping grey water into the environment has been found to be a significant risk to public health due to the large amount of bacteria in the water.
Never leave your campfire unattended and always completely extinguish your campfire when you are done with it. As Smokey says, "Only you can prevent forest fires."
 Campsite Regulations: 
No campfires are allowed at campsites.
Only use designated fire rings for campfires. 
Gas/Coleman grills are allowed in campground.
Please respect the "one vehicle and one tent" per site policy.