Appaloosa Festival is a family reunion! Because our fans come in all ages, we created a unique Family Package, just for you.
Package Description: 2 adults with children 17 and under. Virginia is for Lovers, so we figured we should come up with a package that helps big families attend this awesome community gathering!  
Here are the different types of family passes you can get:
Skyline Ranch Resort is nestled under the Massanutten Ridge of the Blue Ridge Mountains, and is the ideal setting for a music camping festival. 
Located just five miles from the entrance to Skyline Drive, five miles from Front Royal Canoe Company, and five miles from George Washington National Forest, Skyline Ranch provides a myriad of family outings before the music begins.
Appaloosa has added a Family Package, which is a flat fee for 2 adults, and all kids 17 and under. This was designed to help large families enjoy Appaloosa Festival! 
NOTE: Kids 12 & Under go free bust MUST BE accompanied by an adult
We have set aside a special Family Camping area, where quiet hours start earlier and parents don't have to worry about revelers keeping them up.  
VIP Family Camping - gives you a larger 40'x40' lot for camping, and most importantly comes with shower privileges.
General Family Camping - is located out in the field, with a full view of the Massanutten Ridge. (20'x30' lot)
CAMPING MAP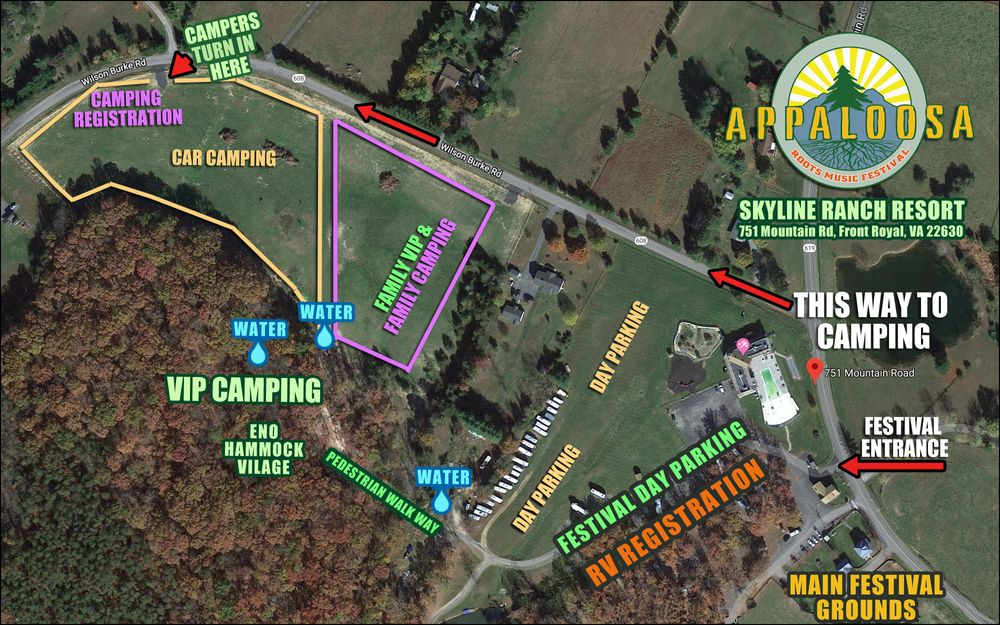 On-Grounds Family Festival Activities
The festival Kid's Zone is a perennial favorite! With bouncy houses, games, and activities - the Kid's Zone is a slam dunk favorite for kids of all ages.
The Kid's Stage provides a variety of children's shows including festival host band Scythian's children's project "Cake for Dinner."
 Free Face-Painting will get your kids in the festival mood. Located right next to the Kid's Zone, your children will be transformed!
Petting Zoo: There are a variety of animals located just next to the festival grounds including pot-bellied pigs, donkeys, ducks, chickens, horses and even alpacas. Every year it warms our hearts to see the wee ones crowding round these darling creatures.
Fishing: There is a little fishing pond located near the camping area, for any of you who want to bring kiddie fishing poles.
Horesback Riding: Book a trail ride with Skyline Ranch Resort. Length of rides vary. Please call the front office at 540-635-4169 for more info.